We Believe That A Child…
is a gift from God to be treasured, nurtured, and appreciated as an individual. Our program is grounded in Christian values and strives to give each child a sense of well being. We offer our Preschool as a ministry to the community.
Our Story
Guilford Park Preschool was begun as a ministry to the community in 1982. From its inception, Guilford Park wanted to provide the best preschool environment for children to grow and develop into the potential they were created for. We do this by hiring teachers that are knowledgeable about child development and how to provide enriched, sensory, exploratory environments. Our staff, through the director, stay abreast of the latest research and understanding of early childhood education. It is also important that every teacher has an appreciation for the uniqueness of each child and creates a place where the children feel embraced, loved and celebrated. You will find the teachers at Guilford Park Preschool are willing to go above and beyond to meet the needs of every child.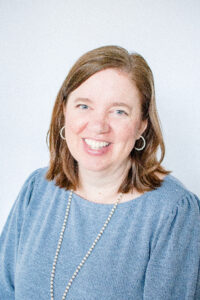 REBECCA WILLOUGHBY
Director
Rebecca Willoughby, Becca is the preschool director. Becca looks forward to supporting our wonderful staff and each of you and your precious families. Becca has been teaching for over 20 years with experiences in Middle School Math and Science, Mothers of Preschoolers (MOPS), Summer Church Camps for children, ages 3-12, a Covid Teaching Pod and the delightful years at Guilford Park in the 2s and 3s classes. Her youngest daughter attended Guilford Park. There have been so many rewarding experiences over Becca's career. A huge highlight is watching the children grow over a school year. Becca reflects, "In my class, we always created a learning journal. In the journal it highlights letter learning, number learning, monthly activities and learning objectives. The journal also captured physical growth, 1st day to last day of school, special books that were a part of our circle time, learning to cut with scissors, learning to write their name, sharing with friends, showing kindness to friends, just to name a few. The best part was that I got to experience each of those experiences every moment of every day. What a blessing I will always cherish. The beautiful part now in my new role, I get to see it across all of Guilford Park. What an abundant blessing." Becca enjoys traveling with her husband and 2 daughters to the beach, mountains and in recent years out West (Utah, Nevada and Arizona) and New York City. They also enjoy visiting historical locations and taking local hikes. She enjoys walking her dog, cooking, baking and Netflix binging, especially Downton Abbey.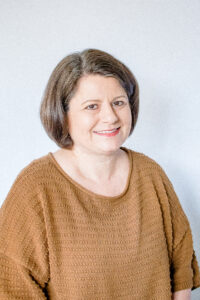 CAROLINE ASKEW
Office Assistant
Caroline is our wonderful administrative assistant, toddler teacher and we would all say, the heart of Guilford Park. You can find Caroline helping a class down the hall, collecting tuition, replying to emails, caring for our babies, getting band-aids and ice packs for boo boos, greeting families, just to name a few. Caroline has spent many years at Guilford Park with all four of her children, 2 daughters and 2 sons, attending Guilford Park, serving on our Preschool Committee, teaching in several classes and of course all of her support to keep us all going. Caroline loves to travel with her husband and children to the beach and the mountains. She loves jigsaw puzzles, hiking, watching football and basketball, Go Heels!
MERRI BAIRD GRAVELY
Lead Teacher - Crib Room
Merri Baird Gravely is our crib teacher. She is a recent graduate of East Carolina University and currently nannies for a Guilford Park family. She has spent many summers caring for children at summer camp. For the year ahead, Merri Baird would love her students to accomplish the milestones of crawling, walking and playing with friends! Merri Baird enjoys hiking, watching movies and playing games with her family. She also enjoys reading, going on walks and spending time with family and friends in her spare time.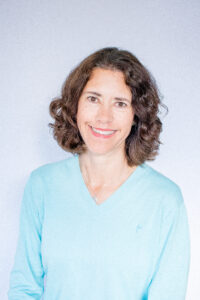 MARY BROGDEN
Assistant Teacher - Crib Room
Mary Brogden is our crib teacher. Mary has been a part of our preschool for 5 years. She has taught in the 2s and Pre-K. Mary enjoys each and every year watching the children grow and learn and accept new challenges with excitement. Her favorite time at school is in the morning when the children walk through the door with smiles and hugs. Mary says, "I especially like to watch the children who are a bit hesitant open up and become independent little people ready to take on the day." Mary would like to see the children learn to become independent thinkers and learners. She would also like the children to enjoy coming to school each day and know it is a safe place where they are loved and cared for. Mary enjoys traveling to see her 3 grown children who live in 3 different states! She also enjoys walking, running, reading and gardening.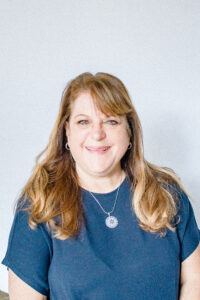 MICHELLE LOWE
Lead Teacher - Toddler Room
Michelle Lowe is our toddler teacher. She has been caring for our toddlers for 24 years and her youngest son attended Guilford Park. Michelle's memorable highlights are being able to work with such wonderful women. She loves being able to give a part of herself to her students. For the year ahead, Michelle would love to see her students enjoy being friends and share with one another. Michelle enjoys hiking, fishing with her family at their pond, walking with her husband in the woods as well as crafting, especially with her grandchildren. Michelle has cared for many families outside of Guilford Park with after school care as well.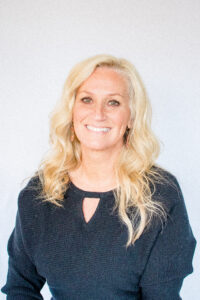 KELLY ADAMS
Assistant Teacher - Toddler Room
Kelly is our toddler teacher. She has been a part of our preschool staff for 5 years, first in the 2s class and now in the Toddler class. Kelly's memorable highlights are to see the joy of watching the kids grow and learn during the school year, Kelly says "hearing I'm a fun teacher always makes me smile." Kelly is excited to see her students talk and become their own little personalities. She loves to watch them be creative as well. Kelly has 2 sons, one who is a Guilford Park alumni. Kelly loves to travel with her husband and boys as well as go to the movies. She loves to organize, read, watch tv and spend time outside.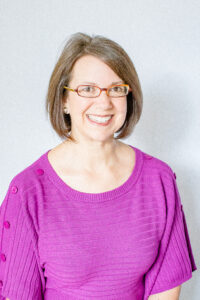 HEATHER BURRESS
Lead Teacher - 2s
Heather is our 2s teacher. She has been a part of our Guilford Park family for many years, first as a parent with her 2 boys attending (crib through Pre-K) and recently as a crib teacher and currently as a 2s teacher. Heather says, "The 2021-2022 school year brought together students in our class from several different cultures and countries. It was so exciting to gather books, music and toys to reflect our diverse group of students and families. Since the reopening of school during the pandemic, I have learned so much about helping children become comfortable interacting within a group. Growing our little community of 2 year olds into a family is a fun and sacred challenge that I love!" By the end of the school year, Heather's main hope is that the 2s friends will be kindness experts! They will make learning to take turns, sharing, gentle hands and using words fun! Heather enjoys preparing the students for exciting tasks like cutting with scissors and using crayons and pencils. All 2s Turtles' successes will be celebrated! Heather enjoys spending time with her husband and boys traveling and hiking, participating in Boy Scout activities and relaxing at home. She loves to read, walk with friends, spend time with people from other cultures, garden, build jigsaw puzzles while watching a movie and sit on her deck enjoying the stillness.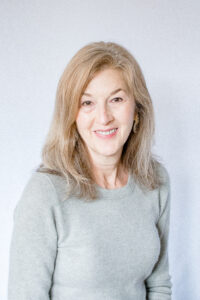 NAN CIFANI
Assistant Teacher - 2s
Nan is our 2s teacher. Nan has taught in both the 2s and Pre-K. Over the years, Nan has enjoyed helping anxious children settle into a routine and seeing the pride they have in their accomplishment! She has also enjoyed teaching transitional kindergartners to read. Nan would love for the children to be able to trust teachers and comfortably separate from caregivers, learn to play with and enjoy class friends and develop a joy for school and early learning. Since Nan relocated from the midwest, one of her favorite things is to explore new places and cities with her husband and son. They also enjoy music, especially concerts and playing instruments at home. She loves to cook, read, walk, play tennis and enjoy time outside.
CARRIE IVEY
Lead Teacher - 3 Day 3s
Carrie is our 3 day 3s teacher. Carrie has been part of Guilford Park for many years, as a parent, with both daughters attending and as a teacher. She has worked with our crib class, 3s and PreK, engaging in several stages of our preschoolers. Carrie loves growing with families as siblings join the class year(s) later, Carrie says, "it gives me a chance to reconnect and to hear all the wonderful things their brother/sister are accomplishing." She loves to see children learn and understand letter sounds and to start to read! "The "click" in their eyes is so amazing! Carrie looks forward to her students gaining friendships, learning through play and to have the best time while at school. She also wants to instill the love of books. Carrie loves to vacation with her husband and 2 daughters to the beach or mountains. She also loves to go to the pool, watch Survivor, walk, Purre Barre exercise, read, garden and enjoy watching birds.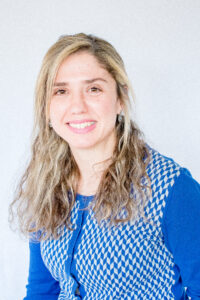 LAMIA HASSANI
Assistant Teacher - 3 Day 3s
Lamia is our 3 day 3s teacher. Lamia is a new member of our staff but she is not new to Guilford Park Preschool! She is the mom of one of our Pre-K Panthers and has also been a sub. Lamia enjoys spending time with her family doing activities such as hiking, exploring, drawing, painting and cooking.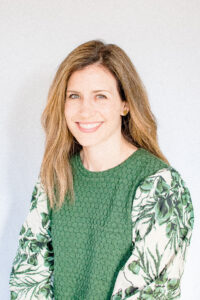 SARAH THOMAS
Lead Teacher - 4 Day 3s
Sarah is our 4 day 3s teacher as well as 3s Friday Friends teacher. Sarah has been part of Guilford Park for many years, as a parent, with her youngest daughter attending as well as teaching in the 2s and now the 3s. Sarah has spent her career in Elementary Education as well as Early Childhood Education, holding a Master of Education degree from UVA. Sarah is looking forward to fostering a strong connection with students and their families as well as curating learning environments and content that are/is fun and engaging. Sarah says, "I look forward to seeing our Bear class working together as a community while growing socially, emotionally and academically." Sarah enjoys spending time with her husband, son and 2 daughters traveling, hiking, eating out and watching movies. She also enjoys yoga, cooking, reading and music.
RHONDA HAMPTON
Assistant Teacher - 4 Day 3s
Rhonda is our 4 day 3s teacher. Rhonda has spent previous years subbing at Guilford Park and this is her second year working with our 3 year olds. Rhonda enjoys reading with the children, talking with them and laughing together. She is excited to see them learn new things and grow in their independence. Rhonda likes to spend time with her husband and son at the pool and the beach. She enjoys traveling, shopping and reading.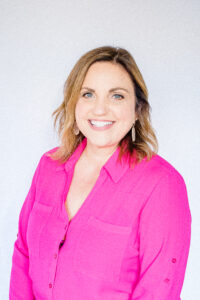 SHARON BRADSHAW
Co-Lead Teacher - PreK
Sharon is our Pre-K teacher. Sharon has been part of the Guilford Park family for many years, first as a parent with her son and daughter attending and a teacher. Sharon has taught 2s, 3s and Pre-K here at Guilford Park, More at Four and did her student teaching in Pre-K at Gateway Education Center with children of various learning styles. Sharon is certified in Conscious Discipline and The Incredible Years. Sharon is excited to see her students gain knowledge through play, wonder, and discovery that will carry them deeper into their learning by exploring the world around them. Sharon says, "I create a positive and calm learning environment to facilitate the development of the whole child (social, emotional, intellectual, physical, self-regulating and communication skills) so they will become lifelong learners." Sharon enjoys traveling with her husband and children to the beach and mountains in their RV. She also loves to hike, shop, watch reality tv and meet friends for lunch.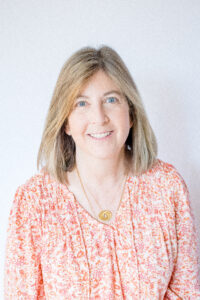 BETH WILLIAMS
Co-Lead Teacher - PreK
Beth Williams is our Pre-K teacher. Beth started her career teaching Kindergarten at Sternberger Elementary, tutored and enjoyed substitute teaching for Guilford County Schools grade K-6 and then when she had children of her own, she began teaching Pre-K at Muirs Chapel for 8 years before joining Guilford Park in 2008. Beth believes that this is her chance to make a difference. She wants to prepare your children for Kindergarten in ways that are engaging, exciting, rewarding and developmentally appropriate. Beth says, "One of the many highlights of my teaching career is having the privilege of witnessing those exciting "aha" moments when a child first picks up a new skill. I also love the hands-on, messy learning involved in artwork, science experiments and cooking. I love the wonderful connection with the students and their families as we work together to create an amazing Pre-K year!" Beth loves to spend time with her husband, 2 sons, a daughter and 2 granddaughters that attend Guilford Park. They love weekly game nights, family dinners, spending time in the mountains and family trips to Disney World. Beth loves to read, travel, hike and play with her pets, 2 dogs and one cat.
"We love the care, love and nurturing environment GPP Preschool gives our little ones."
GPP PARENT
"I love the loving and welcoming teachers and staff.  What a great place to start their education!"
GPP PARENT
"I love the positive, loving, inspiring, encouraging, faith based, supportive and energetic teachers and staff that make every school day special and meaningful!"
GPP PARENT
"We love the wonderful teachers!"
GPP PARENT
For more information and to take a tour of the preschool, please contact using the form below or call us at (336)282-6697
[contact-form-7 id="24" title="Contact form"]